Alert employees when they miss a punch
Attendance
Set up Alerts to email employees whenever they miss a punch by going to Company > Rules > Alerts > Alert Me > Unpaired punch.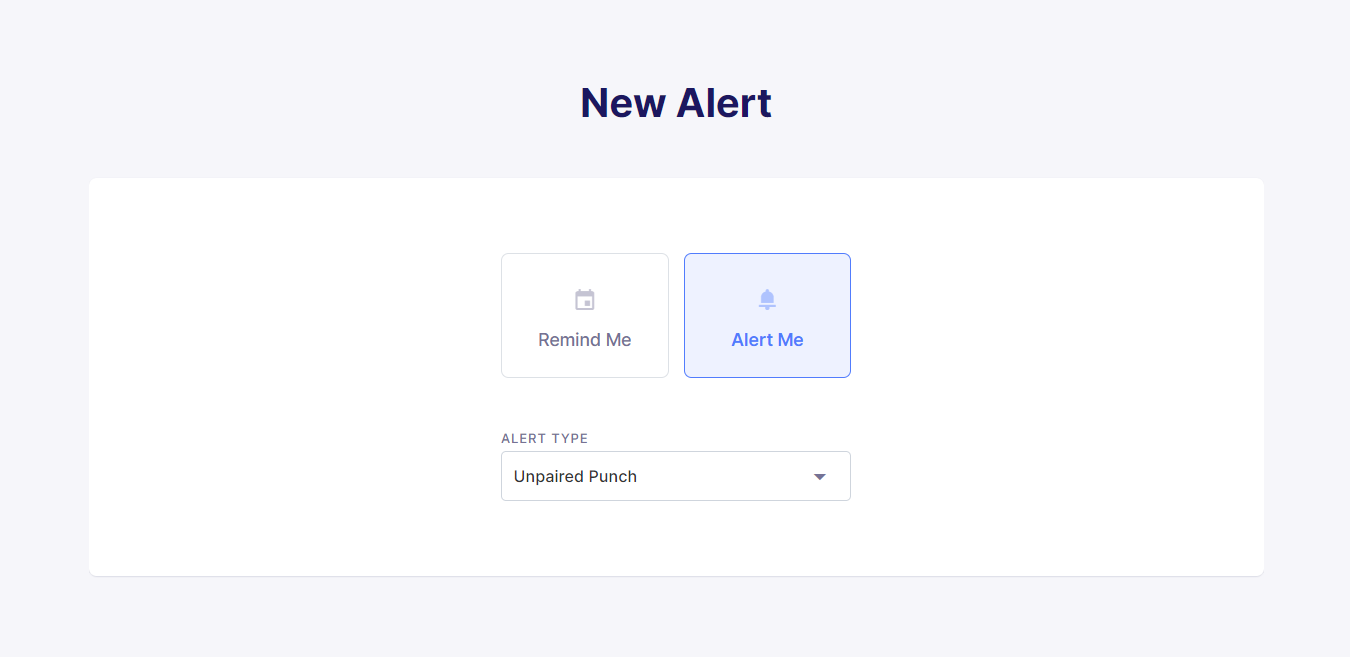 Under "who" you will now see an "employees" option to send the email alert to employees.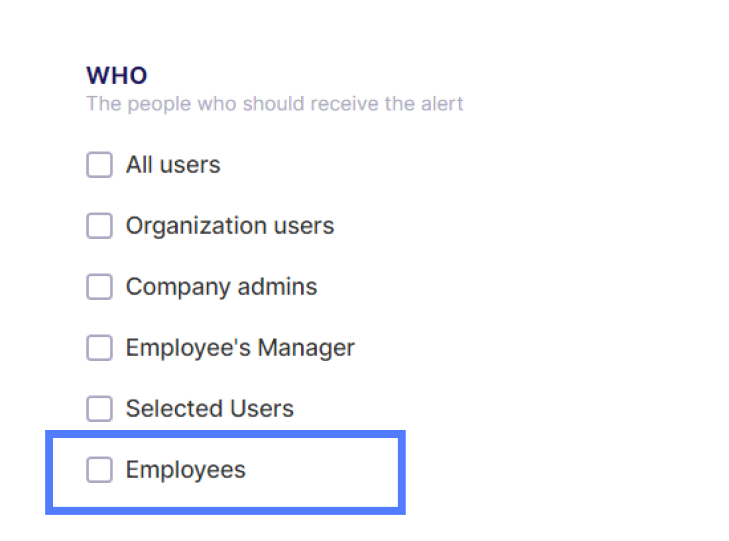 Emails will be triggered based on the settings chosen in the alerts menu.
A Sample email would look like this: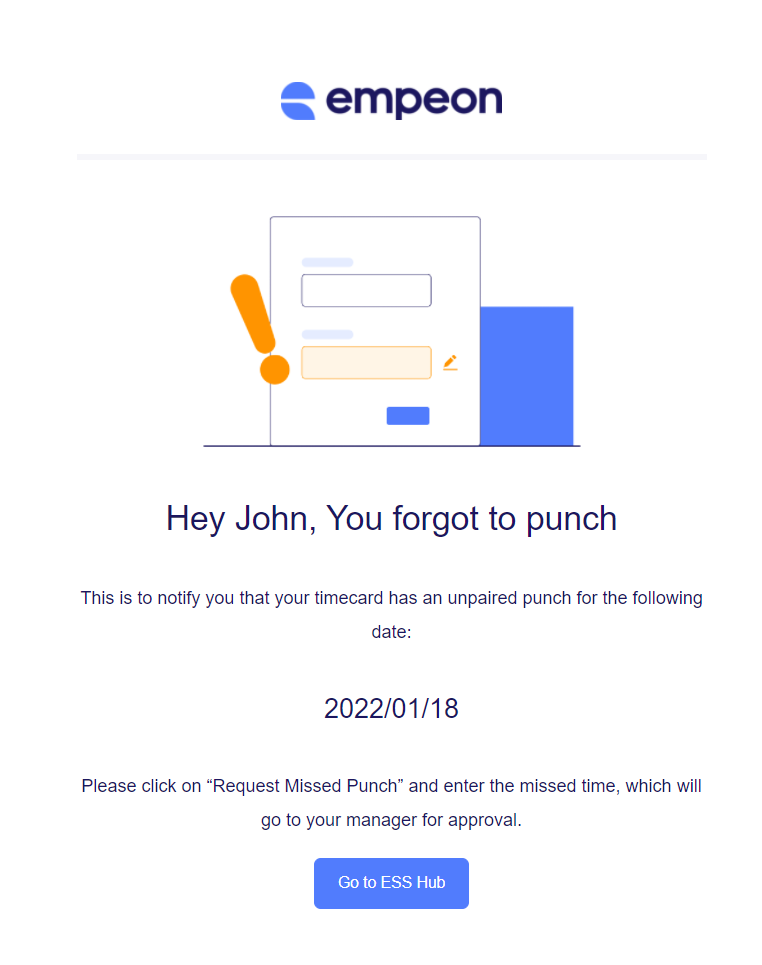 Added new permission level to approve Missed Punch Requests
Attendance
With this release, we added a separate permission level to approve Missed Punch Requests even if the user does not have permission to edit time cards. Previously, only users who had permission to edit a time card could approve a missed punch request.
Find this permission in the Organization portal > Roles > Permissions > Actions > Requests.

Manager column in Attendance verification
Attendance
Users can now add the manager column to the attendance verification grids.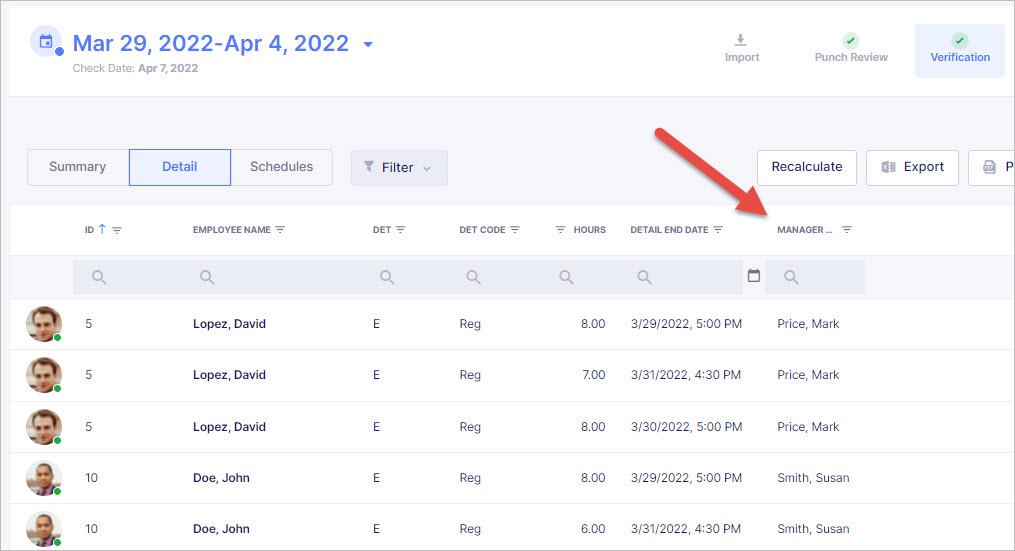 Require copy of voided check for direct deposits
Onboarding
During onboarding we added the option of requiring employees to upload a copy of a voided check when they setup a direct deposit bank account. If this option is enabled, the system will require employees to upload a copy of a voided check or direct deposit form when they enter a new direct deposit.
Find this settings under Company > Onboarding > Onboarding Templates > Select cards (Direct Deposit).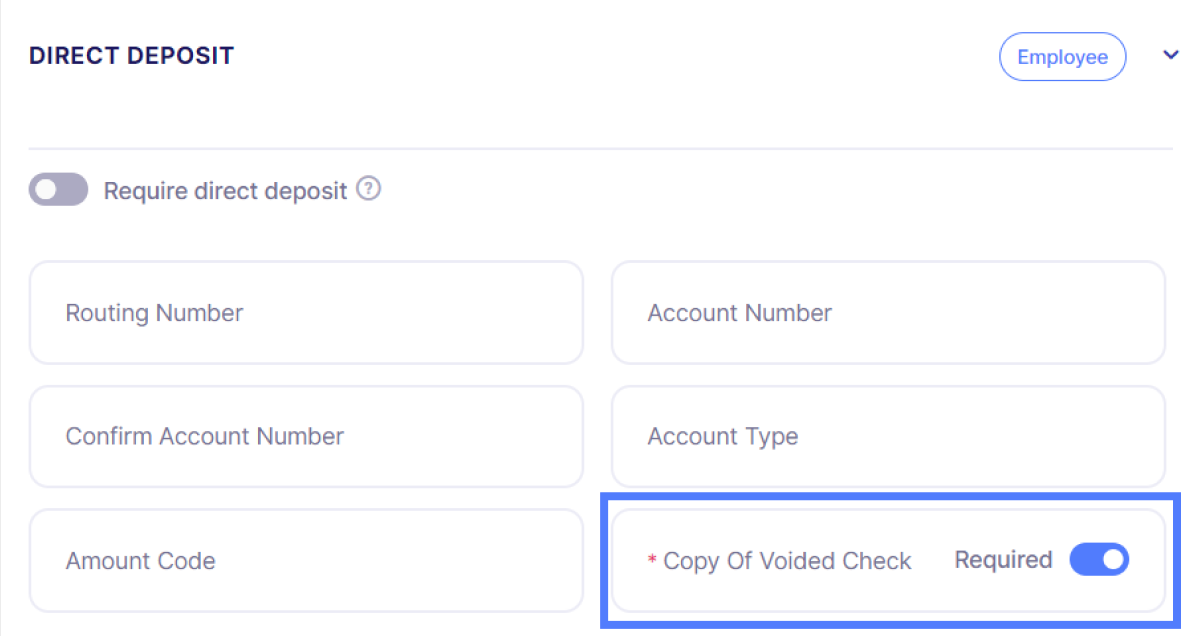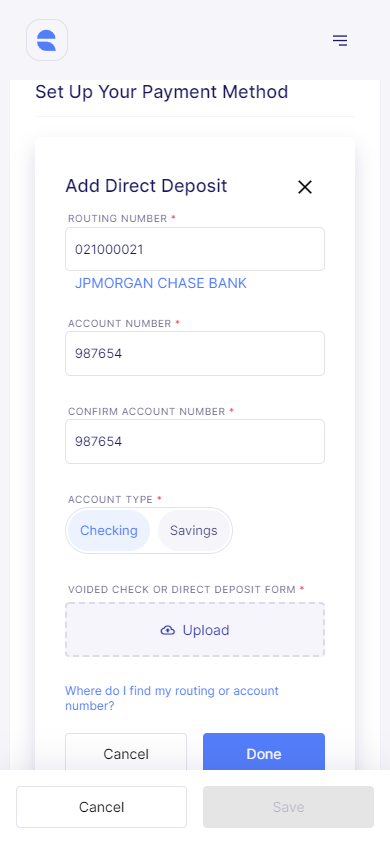 Filter Onboarding submissions by progress
Onboarding
You can now filter your onboarding submissions by employee progress making it easier to identify and manage employees based on their progress.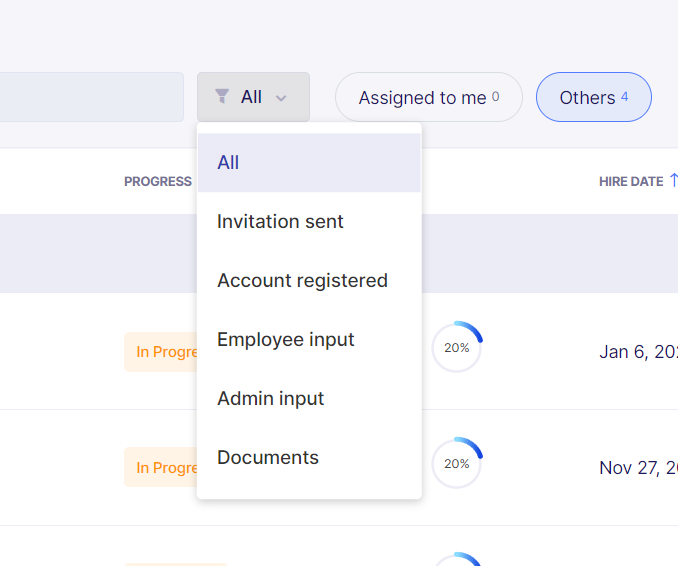 Attendance Excluded is now available as an option in New Hire screen
Our new hire customization and onboarding templates will now include an "Attendance Excluded" field. This will make it easier for you to choose whether or not to include an employee in Time and Attendance upon hiring them.
New- Work Email Field
The employee profile now includes the employee's work email address.
Please note that this field is for informational purposes only; the system will use the employee's personal email for ESS hub registration and communication.

Directly export individual employee Pay History as Payroll Register
We added the option to export an employee payroll register report, directly from within an employee's pay history.
In Pay history, select the checks you want to export, Click Export > Payroll Register.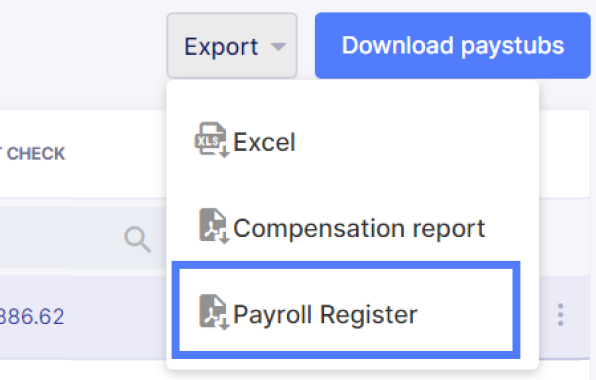 Added option of Period Begin and Period End Date columns in Pay History detail view
Period Begin Date and Period End Date columns are now available in the Employee pay history detail view, making it easier to identify which period the records belong to.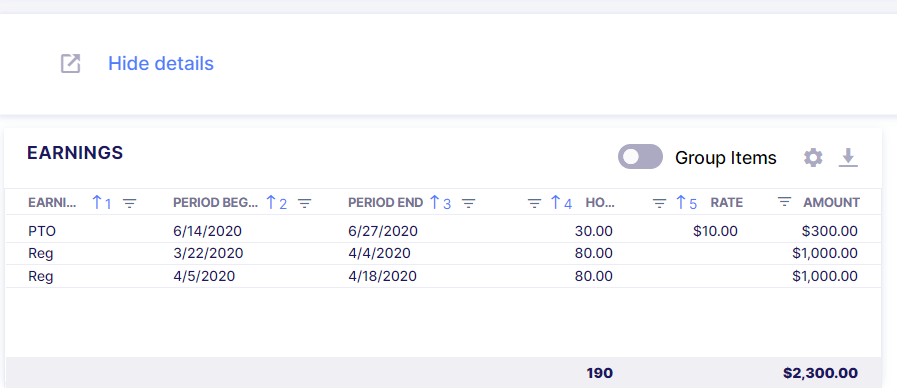 To bring in the above columns, click the settings icon and select the applicable columns to show in the table.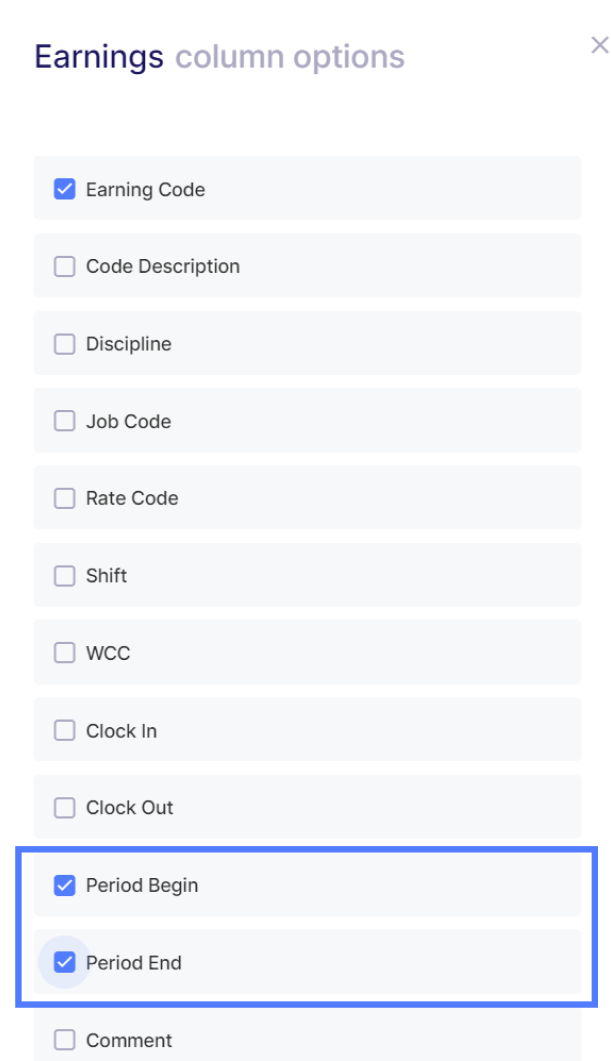 Quickly add Hours columns to Gross To Net Live Reports
Our live reporting tool now allows you to add all applicable hours columns for a Gross to Net report without dragging each one separately. Simply click "Add Hour Columns" in the column chooser window and all applicable hours columns will be added for each earning code.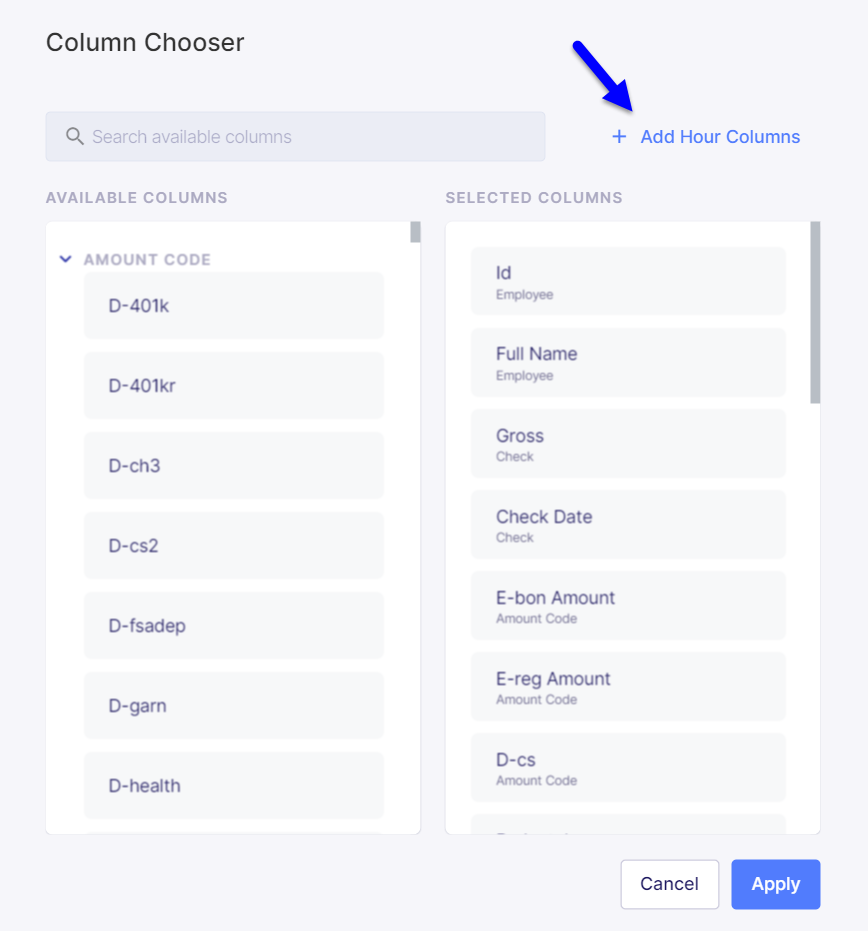 CC description in employee profile header

Attendance
We have added an option to view the CC level description of any employee while hovering over their CC code in a timecard.

Company Job Info - Copy to another company
Company Job Info, such as departments, locations, divisions, positions, etc., can now be copied to other companies. Click the Actions menu on the department you want to copy, and then select "Copy to another company".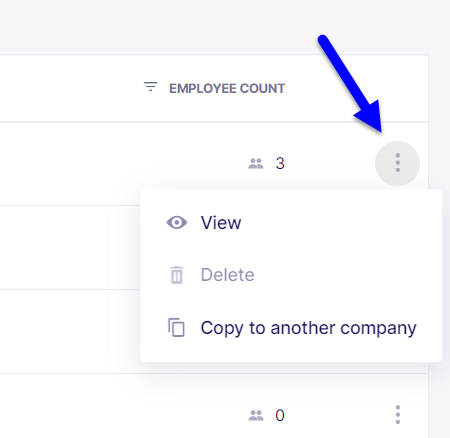 Updated logic of additional rates
When setting up additional rates for an employee with mapped cost centers, up until this point the system would treat a blank cost center like a matching condition on whether to apply this secondary rate. Example: John Doe has an additional rate which is setup to be allocated to CC1: FinanCord and CC2: Office, if a check was created with just CC1 "FinanCord" and the CC2 was left blank, the additional rate would apply instead of the default rate even though there is also a CC2 "Office" condition in the setup.
As of this release this will no longer be the case, Additional Rates in Empeon will only apply when the CCs identified on the check matches all the CC condition in the employee's additional rates setup, whether it's just one CC or all five CCs used for the condition.