Introducing Early Wage Access with ZayZoon: A Convenient Financial Solution for Your Employees
We are excited to announce our partnership with ZayZoon, a leading Early Wage provider.
ZayZoon's Early Wage is an on-demand pay service that allows employees to access a portion of their earned wages prior to payday. This means that employees can get access to their pay when they need it, rather than having to wait for their scheduled payday. Early Wage can be used to cover unexpected expenses or bills, avoid costly overdraft fees, and reduce the need for high-interest payday loans.
It's a voluntary benefit that reduces employee financial stress related to cash flow shortfall between pay checks. Improve retention, increase productivity and benefit from a more engaged workforce.
The partnership between Empeon and ZayZoon allows for a employees to access ZayZoon directly from within the Empeon ESS portal, using a single sign-on.
To enable ZayZoon for your organization or If you would like to learn more, please contact support@empeon.com.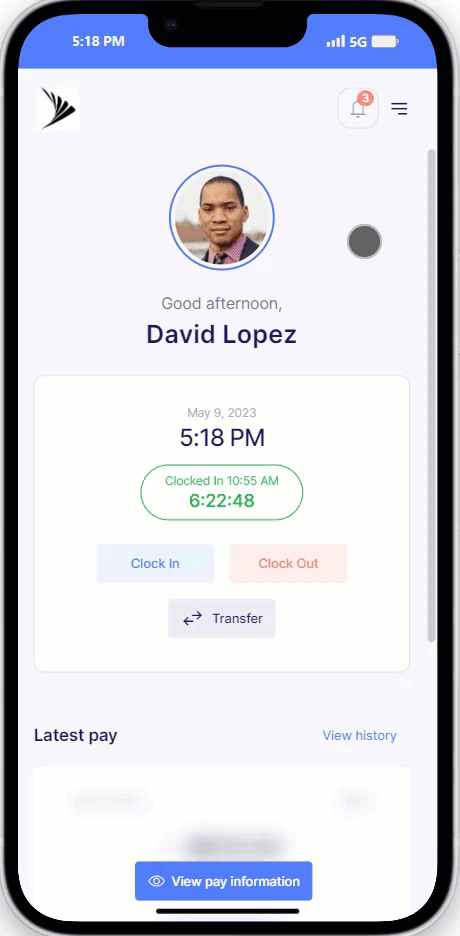 Employee Self Service (ESS) Hub Now Supports Additional Languages: Spanish, French, and Russian
We are pleased to announce that the Employee Self-Service (ESS) Hub now supports additional languages, including Spanish, French, and Russian. With the new multi-language feature, your employees can choose their preferred language, and the interface will automatically translate the content using Google Translate, providing them with a more convenient and personalized experience.
This feature is also available in the Employee Self Onboarding module, making the process easier and more accessible for employees who speak other languages.
As your partner, Empeon understands that improving the employee experience is critical to your business. We're excited to provide this new tool to empower your people.
If you would like another language added, please reach out to support@empeon.com.
Expanded Expense Reimbursement Feature to Include Mileage Reimbursement Requests.
In a prior release we introduced the Empeon "Expense Reimbursement" feature. This feature (when enabled) allows employees to submit expense reimbursement requests directly from within their ESS account. Employers can then review those requests and approve/deny them. Approved requests are automatically added to the next payroll. This simplifies the process of requesting reimbursement and reduces the administrative burden for both employees and employers.

Prior to this release, employees were only able to submit dollar amounts for reimbursement. With this release, we added the ability for employees to submit mileage for reimbursement.

To enable this feature for your employees, and to manage the reimbursement settings and rate, go to Company > Rules and Alerts > Request and approvals > Reimbursements.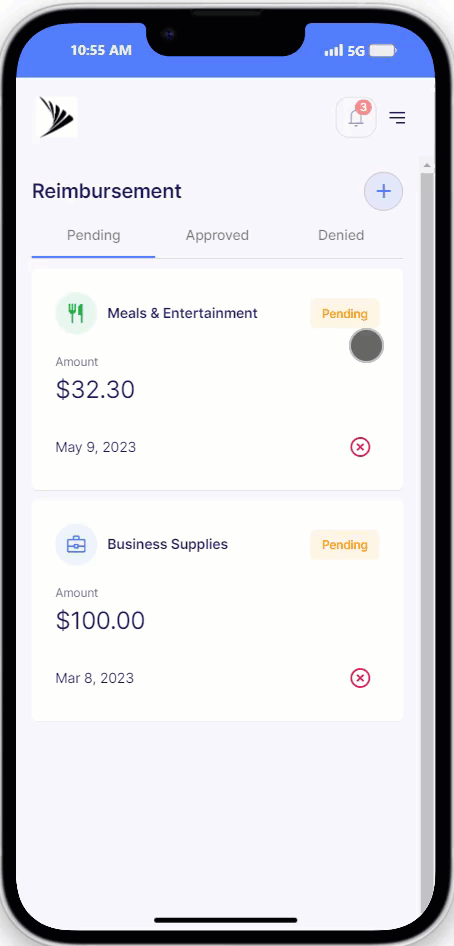 Improved Employee Time Tracking in ESS
With this release we introduced a few improvements to time tracking in ESS to make it easier for employees to track their worked hours.
This includes a redesigned and improved time card in ESS.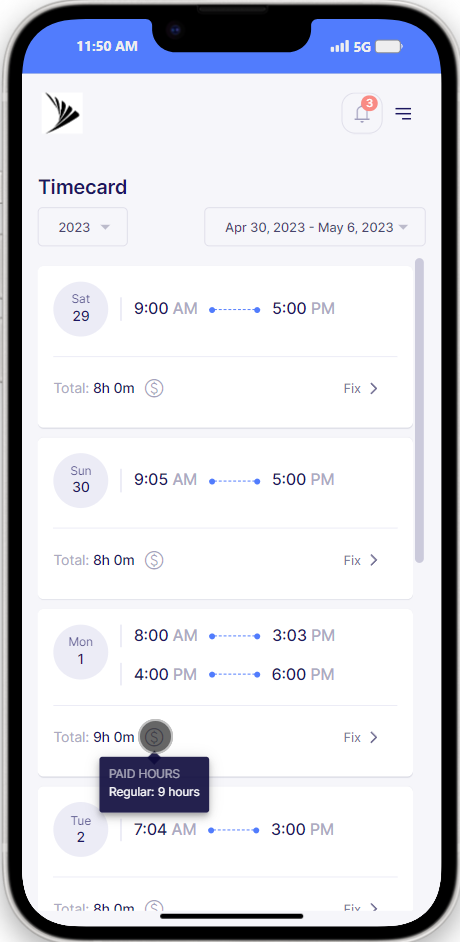 For employees who use ESS for clocking, we now display the total time since clock-in. This will help employees stay on top of their hours worked and better manage their time.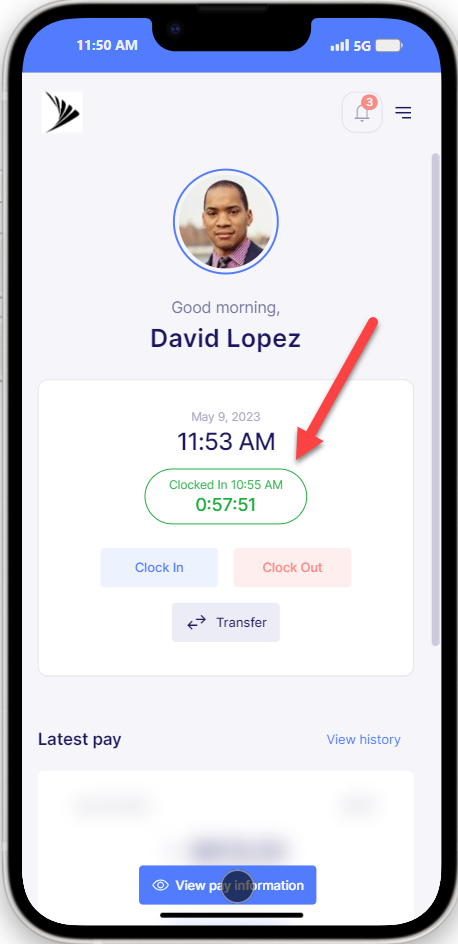 ESS Time Off Request Based on Employee Schedule
One of the many features that the Empeon Employee Self Service (ESS) portal offers is the "Time Off Request and Approval" feature. With this feature, employees can request time off directly from within the ESS hub and employers can then review and approve/deny those requests.
With this release we introduced an enhancement where if an employee is setup with a schedule, when the employee requests time off it will default the hours requested based on the employee's schedule.
This feature streamlines the time off request process and ensures that employees are requesting the correct number of hours off.
New Filtering Option Added to Time Off Request Feature
With this release, we added a filtering option to the Time Off Request feature. Now employers can filter which employees have the ability to request time off. This filtering is available per accrual bank.
To manage the Time Off Request settings, go to Company > Rules and Alerts > Request and approvals > Time Off.
Employee Onboarding Approval: Hire Date Included in Approval Pop-up Window
In the employee Onboarding module, now when approving a new hire, the hire date is included in the approval pop-up window. This allows/reminds the user to confirm/edit the hire date prior to approving the employee.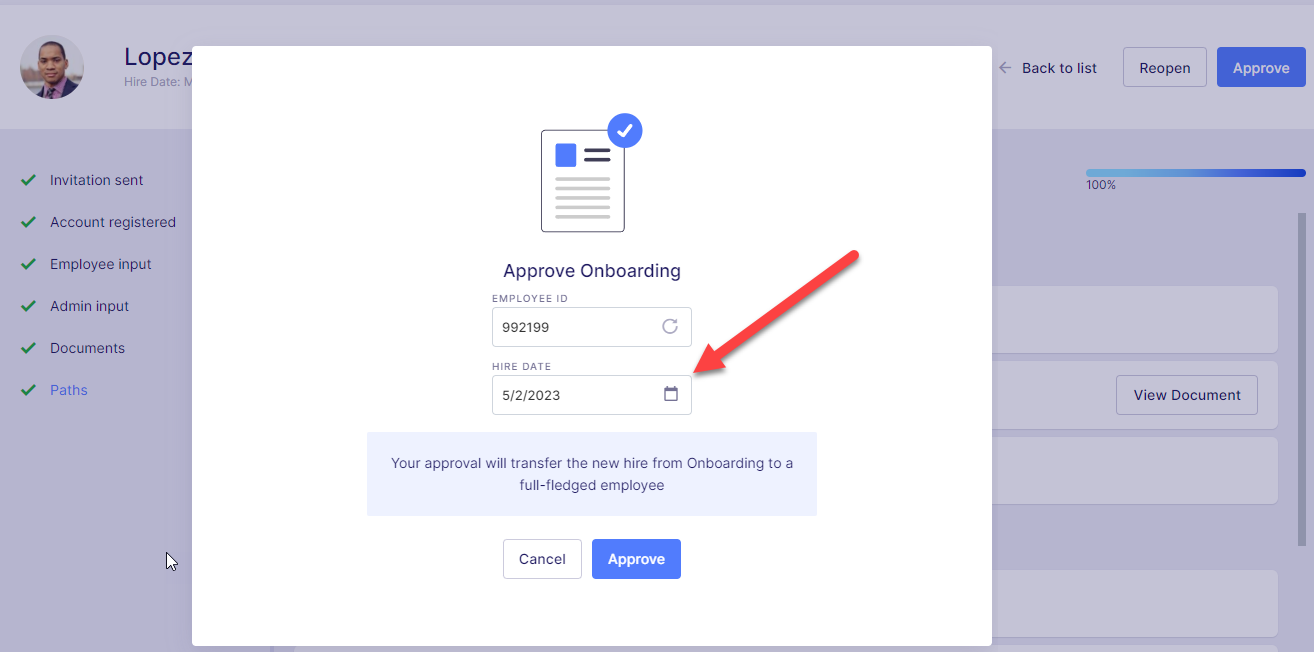 Employee Status Card Displays Onboarding Dates
In the employee's Status card, we now display for employers the date that the Onboarding invite was sent and the date that the employee was approved.

Enhanced Payroll Visit Detail Information for Healthcare Agencies
As part of Empeon's commitment to being the leader in Payroll & HR solutions for the healthcare space, we have enhanced the level of visit detail information that can be recorded in payroll.
Clients can now include in each payroll record, the corresponding EMRs (Electronic Medical Record System) Visit ID. This enables a distinctive identifier that links the visit record in the EMRs (such as HHAx) to the corresponding visit record in Empeon. With this, clients have more data power to reconcile between payroll records in Empeon and the corresponding visit record in the EMRs.

Employee Import Preview & Edit Feature Now Available for Default Configuration
In a prior release we introduced the employee import "Preview & Edit" feature. This feature allows users to preview, edit, and fix errors on the screen prior to importing the employee file.
Previously this feature was only available for clients using the custom employee import configurations. With this release, the Preview & Edit feature is available for all employee import configurations.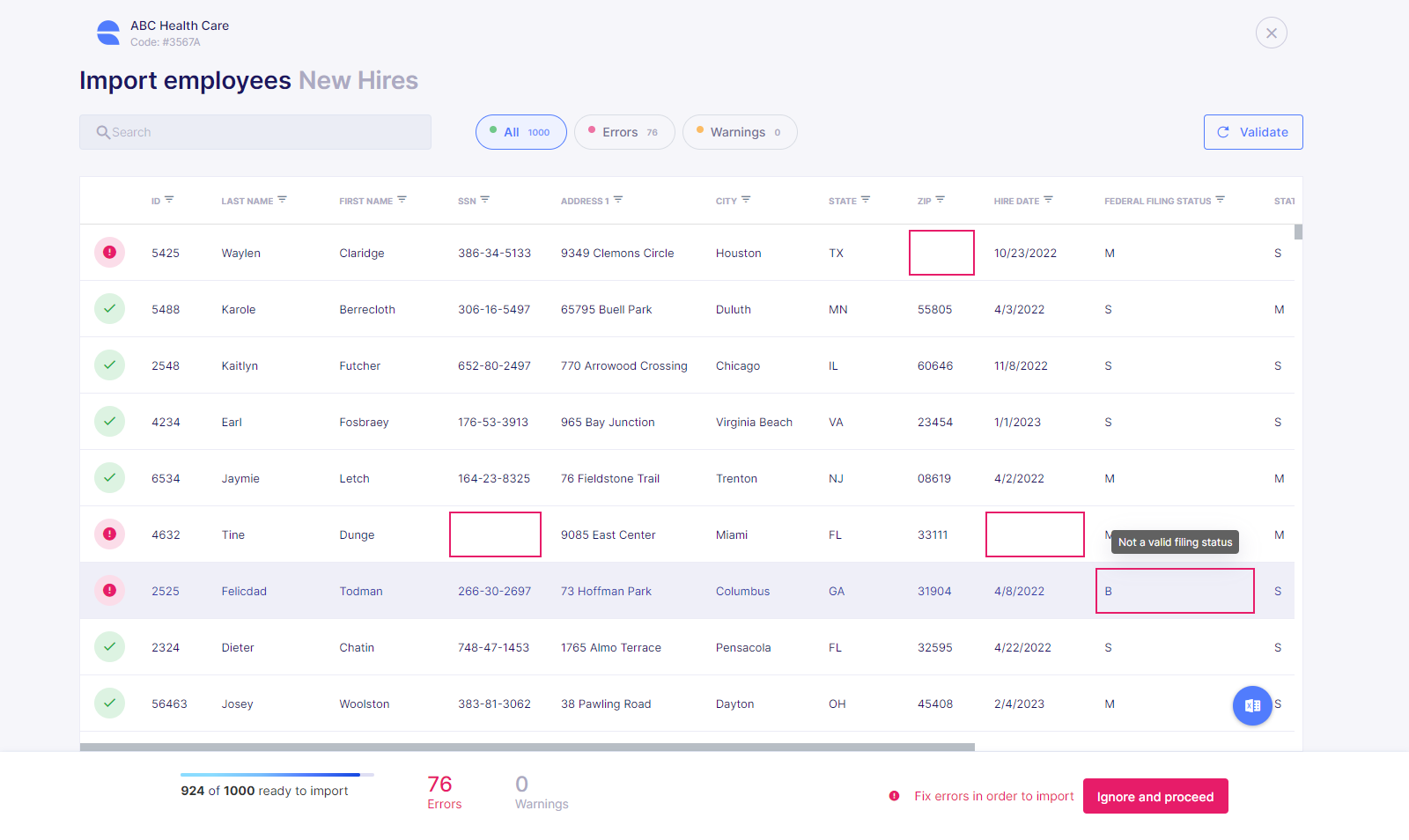 Improved Global Search Results for Check and Direct Deposit Transactions
When utilizing the Global Search function to search for a check or voucher number, the search results now differentiate between Check and Direct Deposit transactions.