Paths: For Existing Employees Too!
We are excited to announce a new update to our platform that expands the functionality of paths for employees. Previously, paths were only available during onboarding, but now you can assign paths to existing employees as well.
With this new feature, you can customize paths to fit your company's unique needs, and use them to track a variety of employee activities, such as completing compliance training, professional development, and HR-related tasks. A path is a combination of tasks, such as watching a video, signing company documents, uploading documents/certifications, rich text, and attaching documents for the employee to download.
To get started with this new feature, navigate to Company > Paths. From here, you can create a new path or edit an existing one.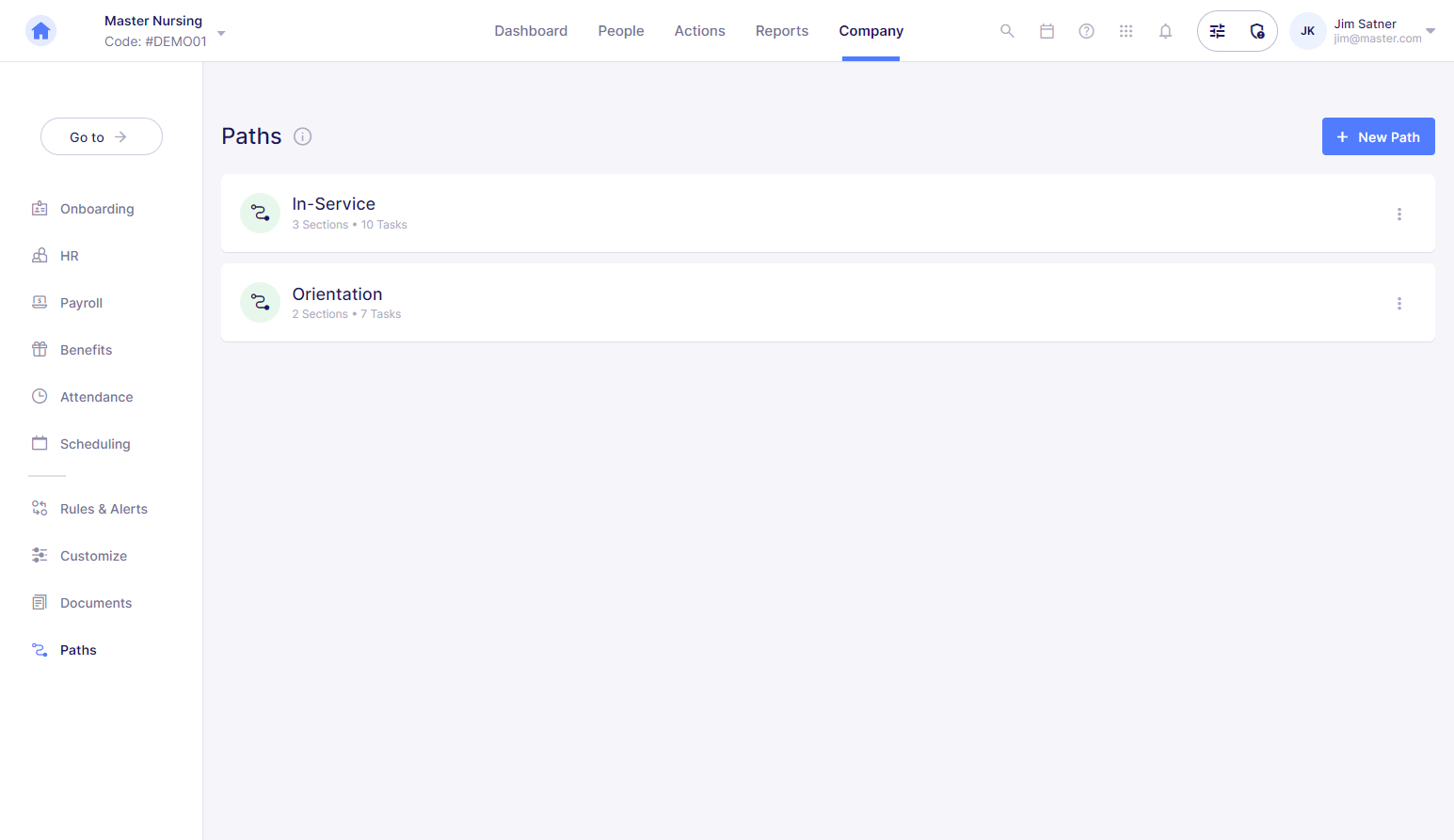 To create a new path, click on the "New Path" button and give your path a name. You can then add tasks to the path by clicking on the "Add Task" button. Tasks can be customized to fit your company's needs, such as watching a video, signing a document, or uploading a certification.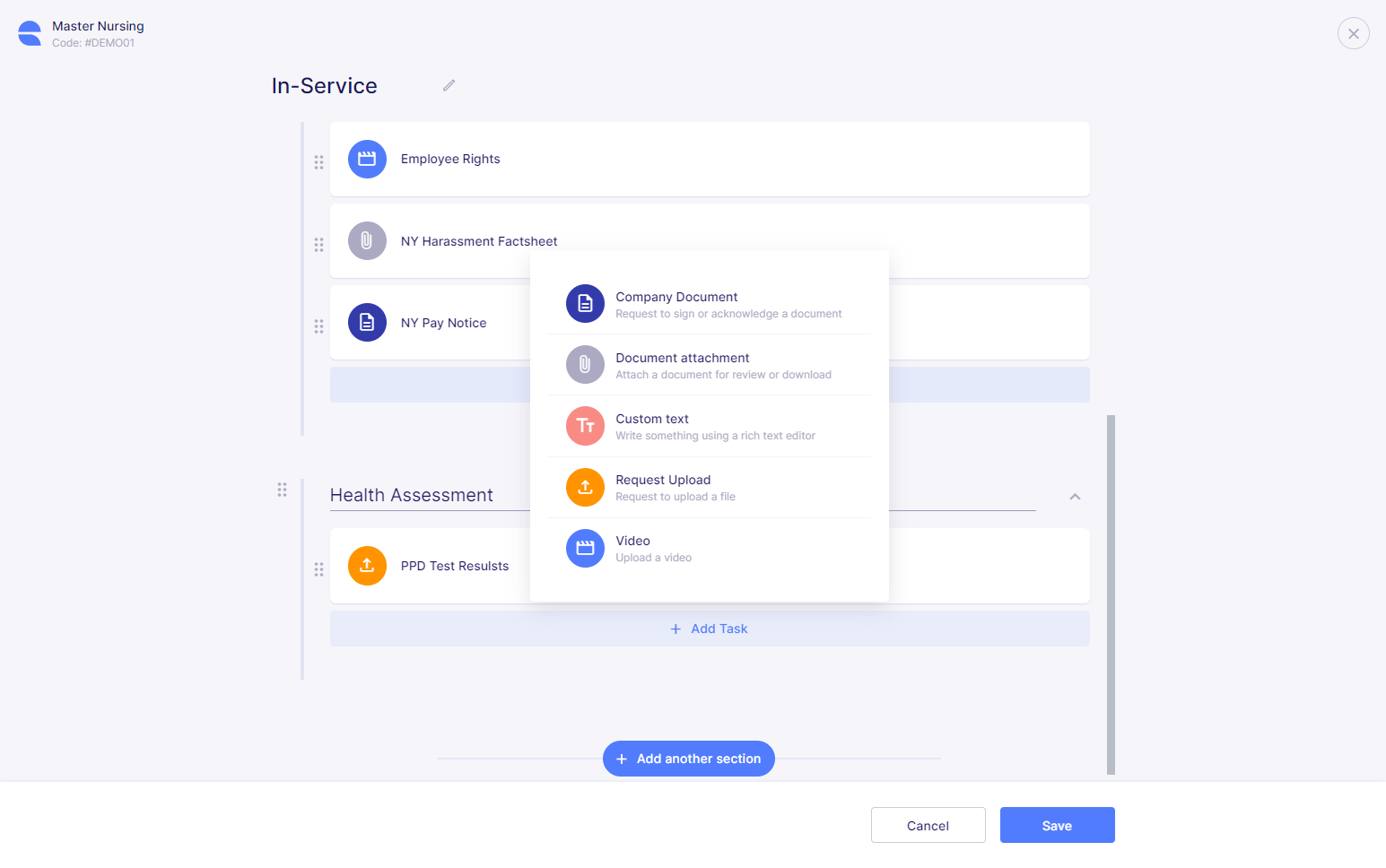 Once you've set up a path, you can share it with ease. Simply navigate to Actions > Paths and click "Share Path." From there, select the path you want to share and craft a custom message to accompany it. Finally, choose the employees or groups you'd like to share the path with.
This streamlined sharing process allows you to ensure that the right employees are getting the right information at the right time, making it easier to manage and track progress towards specific goals.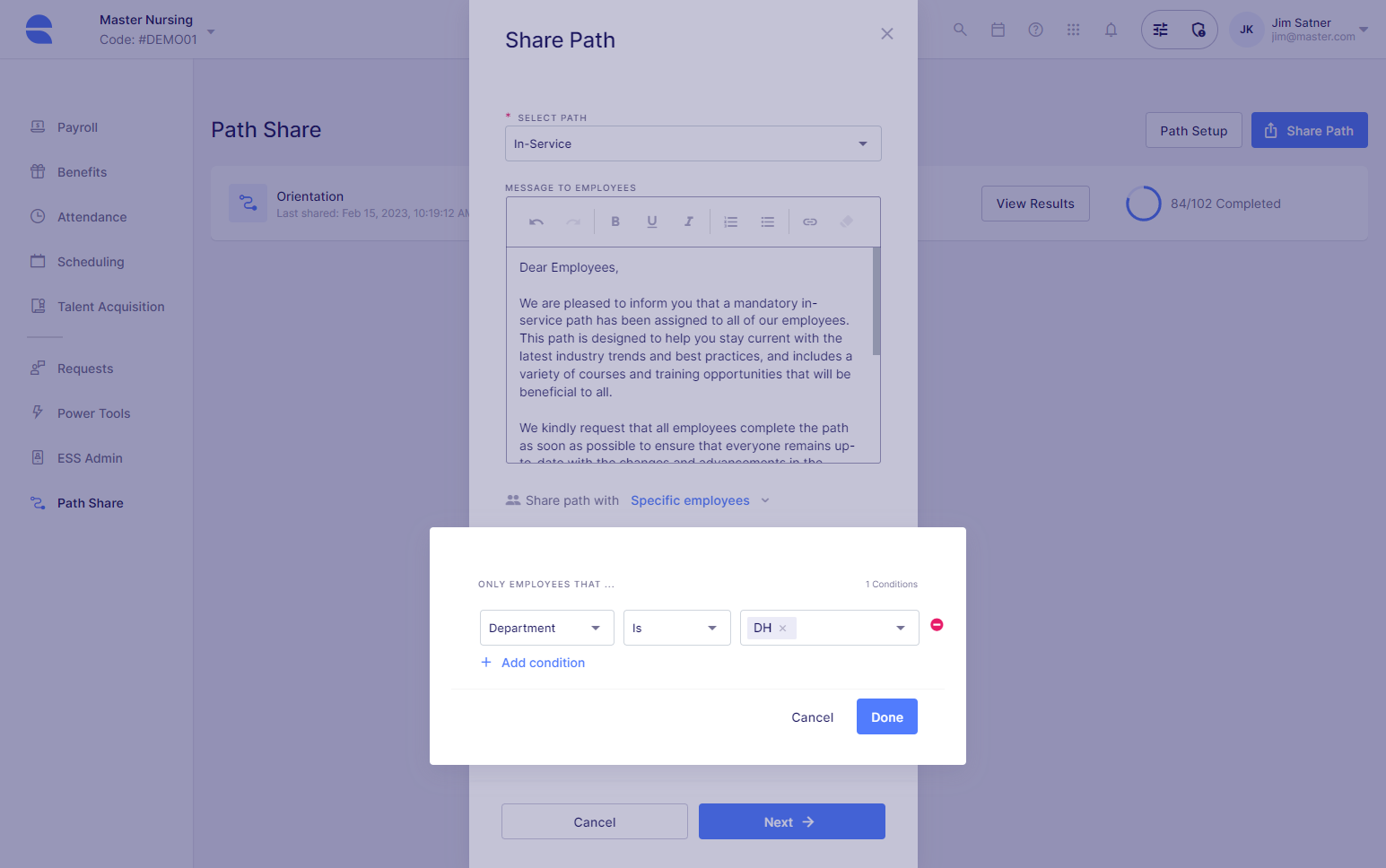 After assigning a path to one or more employees, you can track their progress by selecting "View Results." This feature allows you to view a list of employees with whom the path has been shared and their completion status.
If you need to examine the progress of an individual employee, simply navigate to that employee and select "View Details" to see a breakdown of the tasks that have been completed and those that are still outstanding. This allows you to keep a close eye on the completion of the path and ensure that everyone is on track.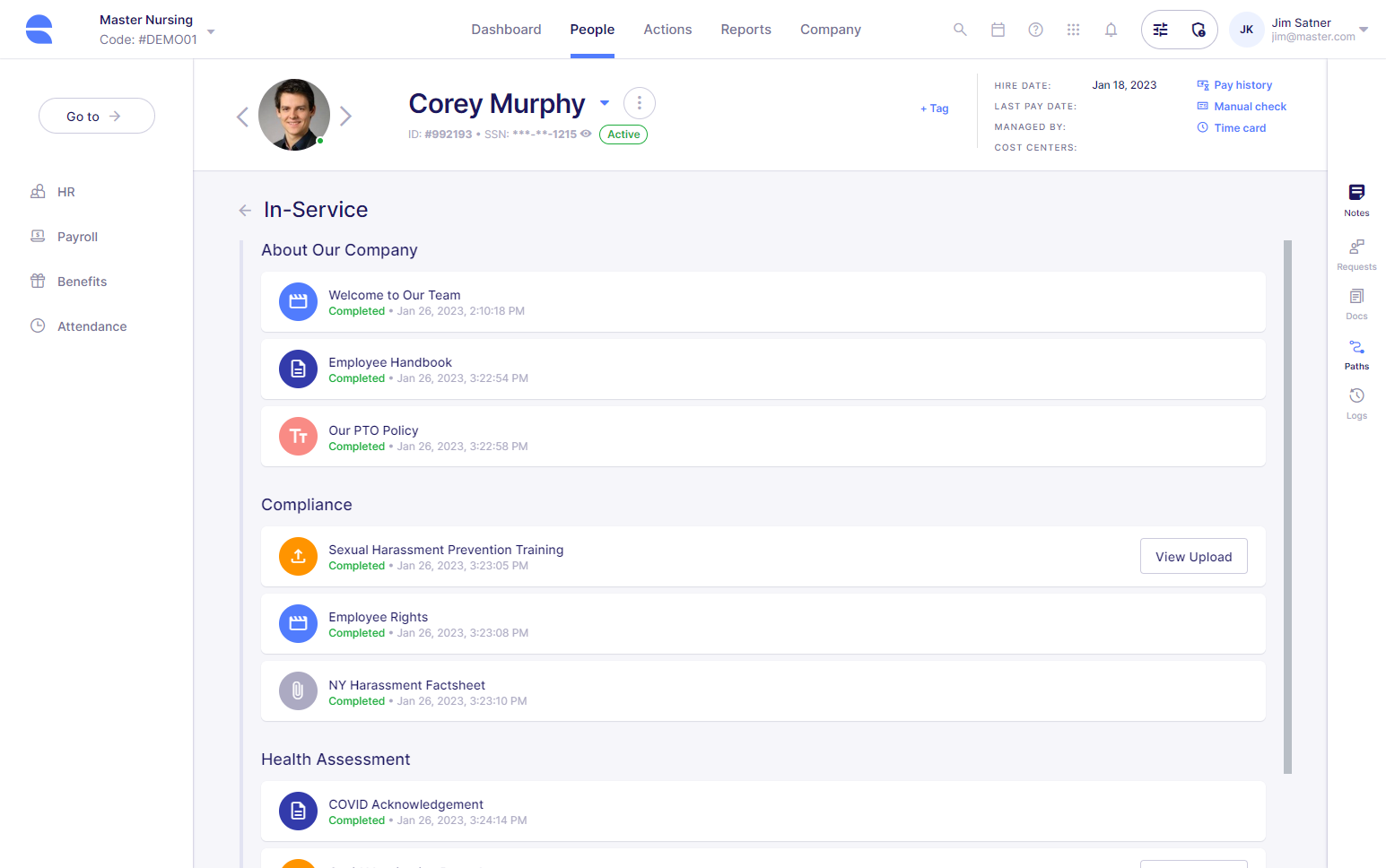 One valuable use case for paths in HR management is compliance training. You can create a path that includes all mandatory compliance training for employees, ensuring that everyone is up-to-date on company policies and regulations. Another use case is professional development. You can create paths that include courses, webinars, and other training opportunities to help employees grow in their roles and advance their careers.
We believe that this new feature will help streamline your employee management processes and ensure that everyone is meeting the necessary requirements for their roles.
Direct Deposit Power Import
We have added a new power import functionality that allows HR administrators to easily add or edit employee direct deposit account information in bulk. The power import feature can be accessed under Actions > Power tools.
To ensure the accuracy of your data and prevent any potential errors, please carefully review and follow the instructions provided before bulk importing data.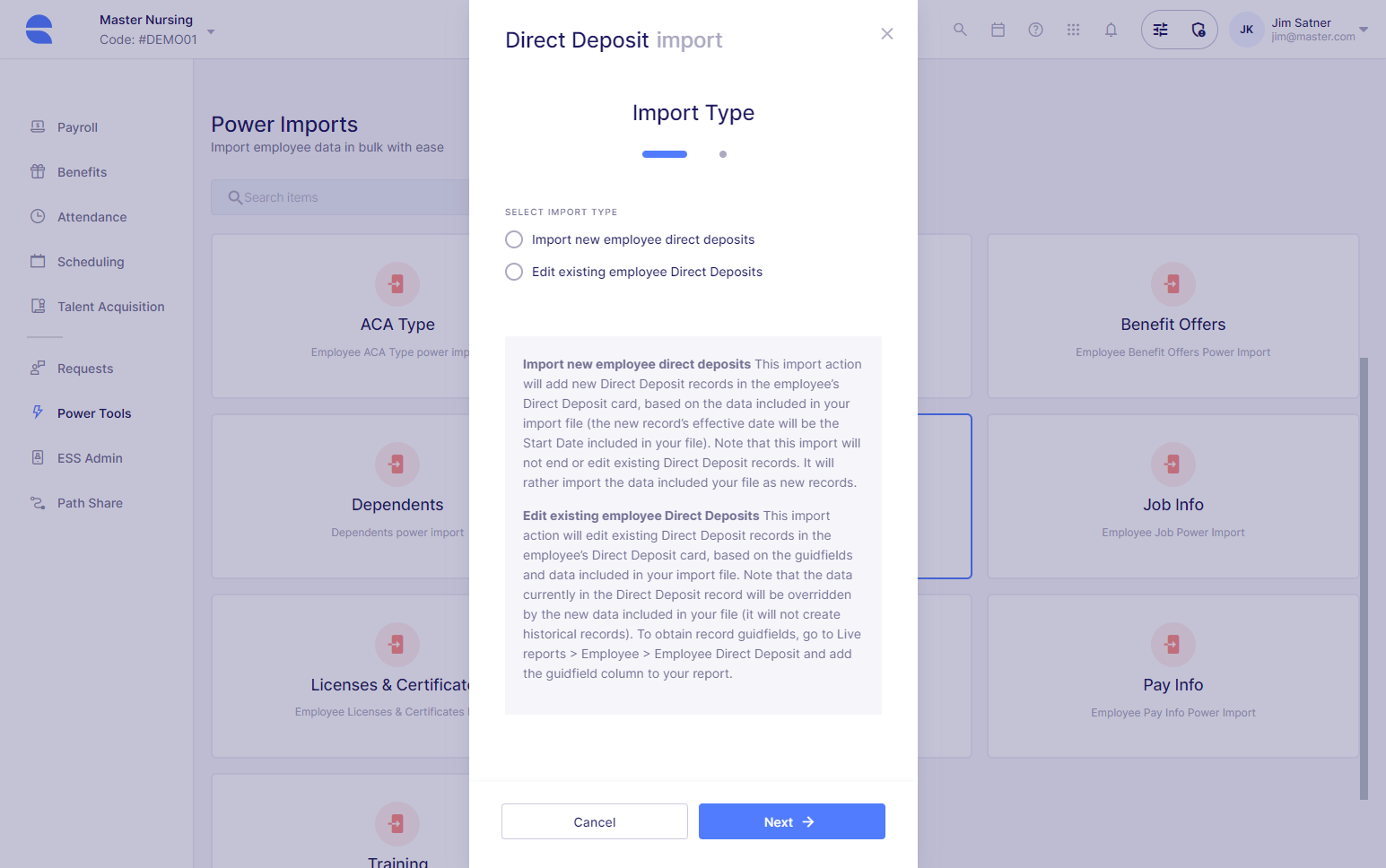 Pay History Custom Date Range Filter
We have introduced a new custom date range filter in the employee pay history. This new feature allows HR administrators to filter and view employee pay history records for a specific time period of their choosing, providing greater flexibility and control when analyzing employee compensation data.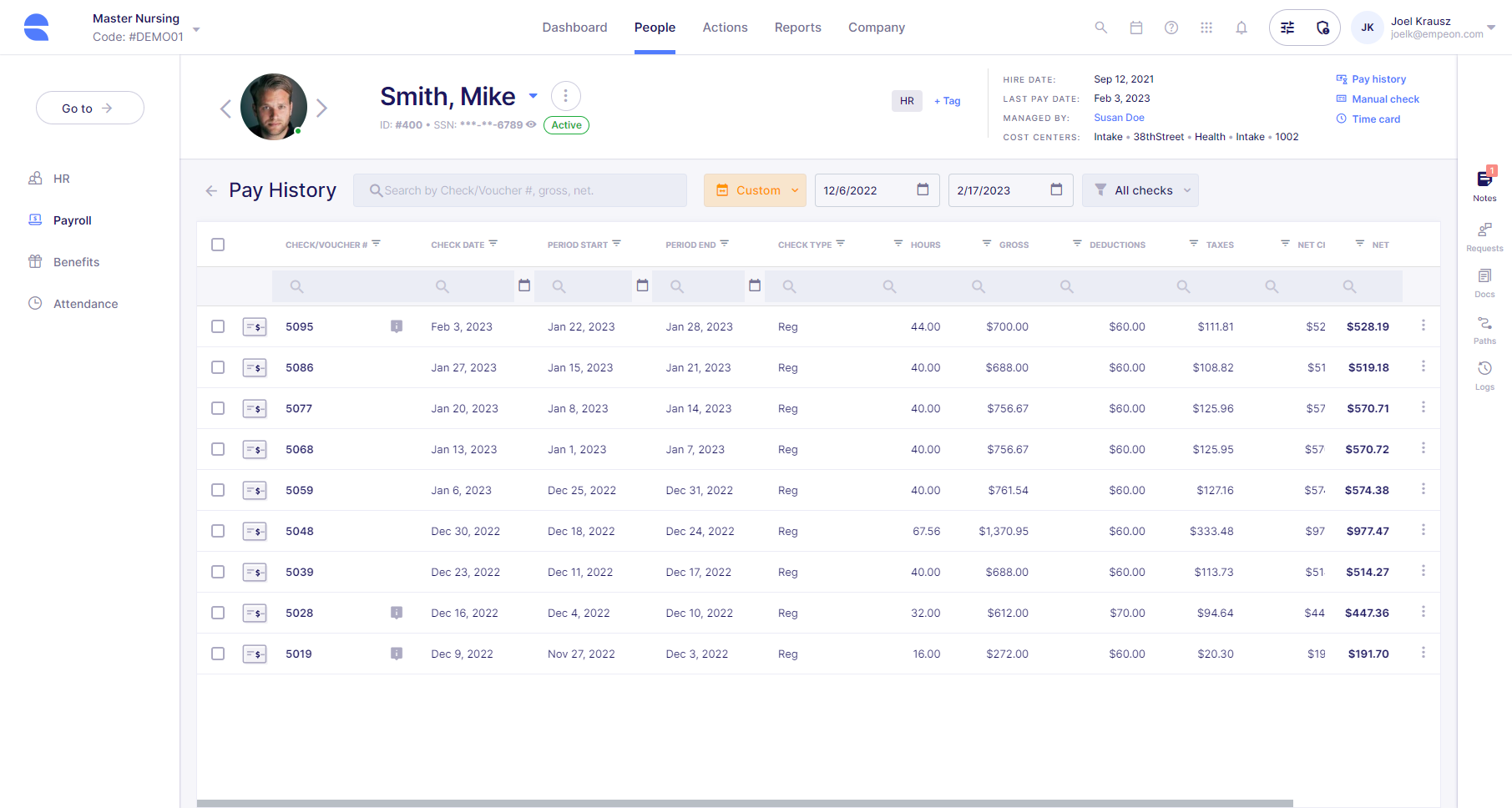 "Is PBJ" to "Agency Employees"
When indicating in the system that an employee is working for an agency, until now it said "is PBJ" which was confusing for users. Now it says "Agency Employee". This change will not affect any data or functionality, but will make it easier for users to understand the purpose of this feature.
Employee Deduction Live Report filters
We have added new filter options to the employee deduction live report. These new filters allow HR administrators to ignore records that have already met the goal or to exclude end-date records, making it easier to manage employee deductions and compensation.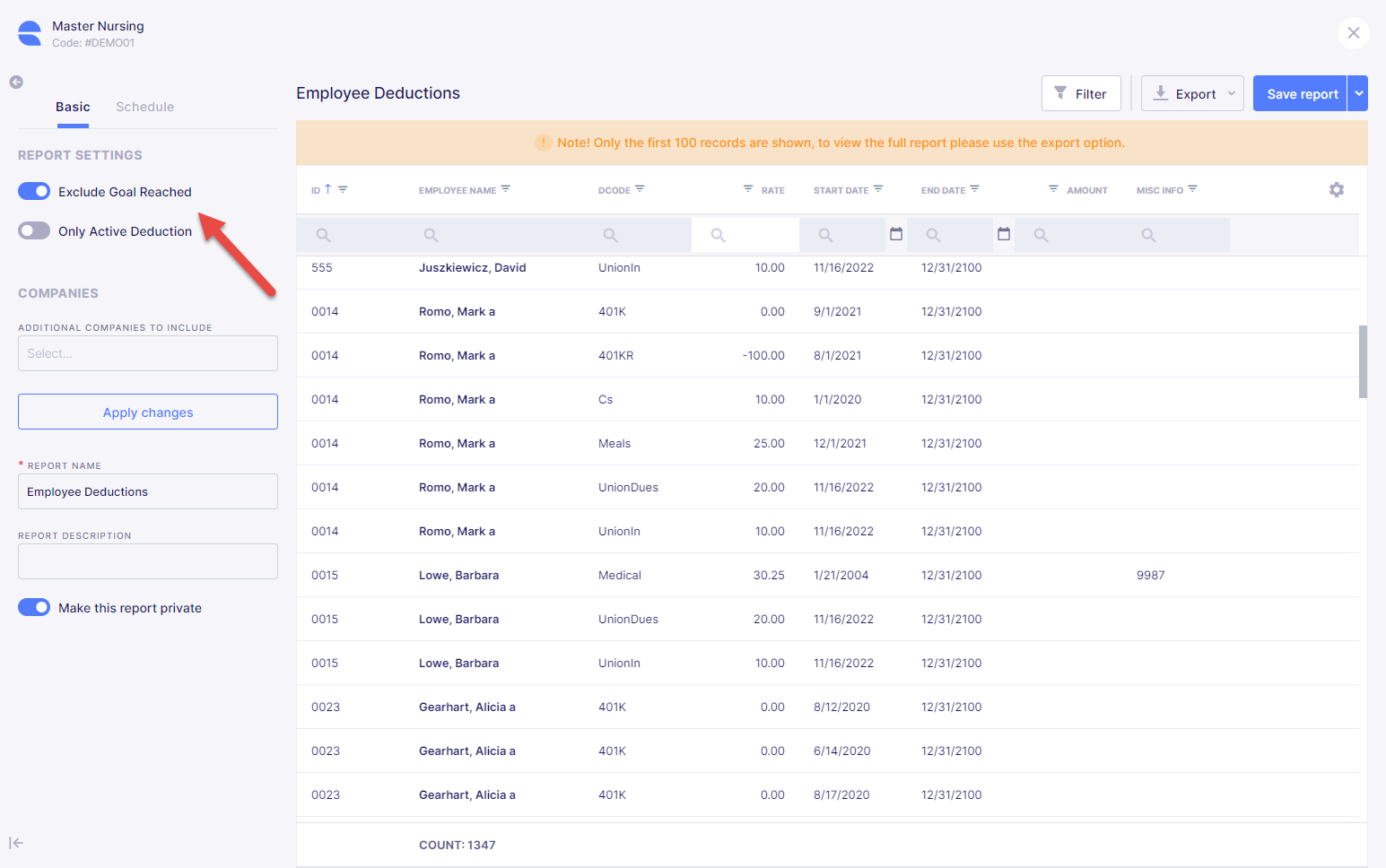 Live Reports Job Info Description
We have added a new job info description field to our live reports column chooser. This new field allows HR administrators to view and analyze job information data directly within the live reports view, providing more comprehensive and flexible reporting options.
Duplicate Pay Record Audit Enhancement
We have made significant improvements to the speed and performance of our Duplicate Pay Record Audit feature. This new improvement will help HR administrators more efficiently identify and resolve any duplicate pay records, reducing the risk of errors and ensuring accurate and timely payroll processing.
New Attendance audit – Duplicate or Overlapping Pay
We are excited to announce the addition of a new audit to our attendance audit library. The new audit is focused on identifying duplicate or overlapping pay records for employees when closing time cards, helping to ensure accuracy and avoid potential errors before closing and approving time cards.
The new audit analyzes employee pay records to identify any instances where the same pay period or time frame has been recorded more than once, or where multiple pay records overlap. This can help catch errors and ensure that employees are paid correctly and in a timely manner.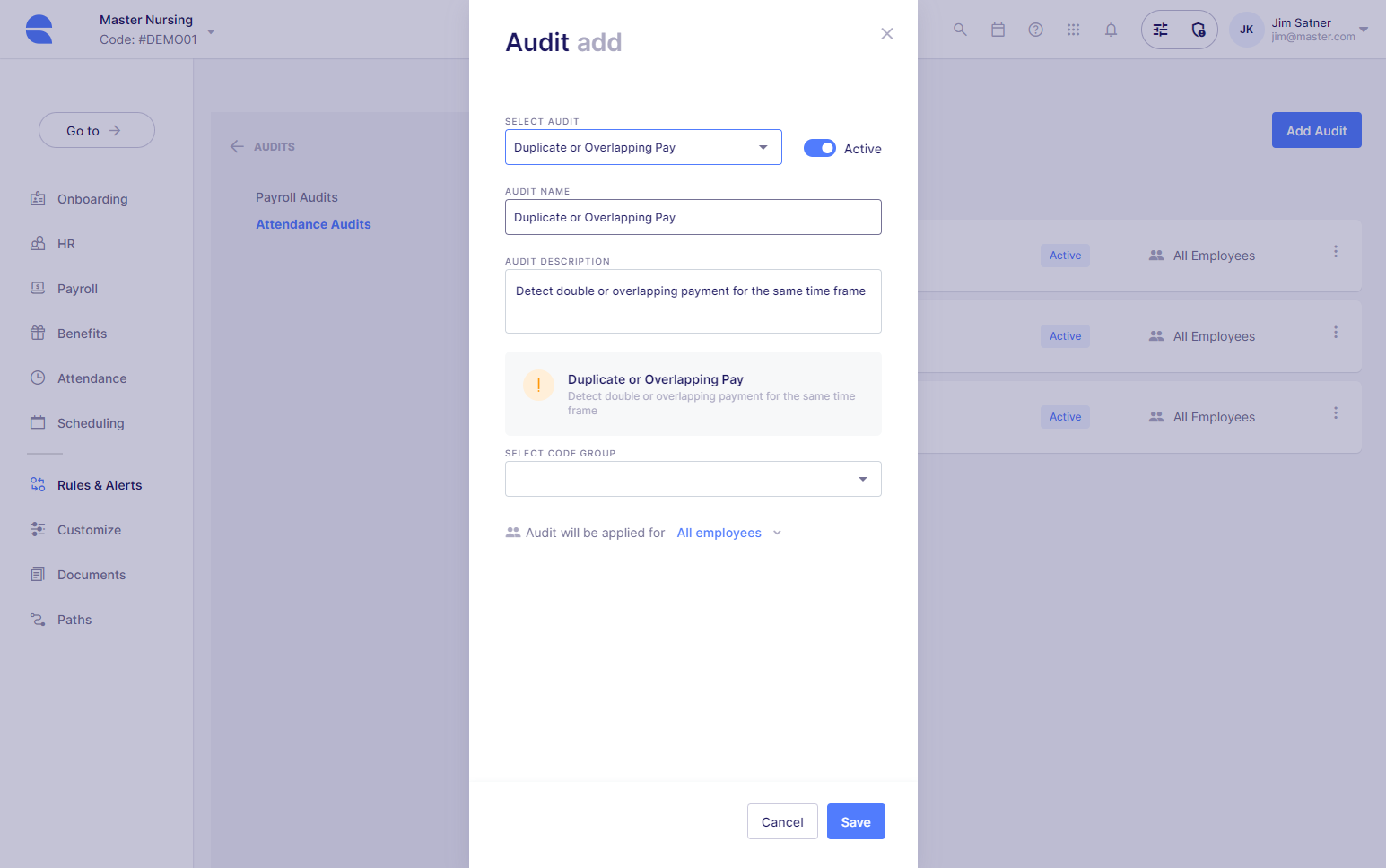 New Live Report - Employee Paperless Election
With the new live report for paperless settings, you can quickly view which employees have opted in for paperless tax forms and which employees have not. This will provide valuable insight for your HR team and help ensure that all employees are receiving the necessary tax forms in the way they prefer.
To access the report, simply navigate to Reports > Live Reports > Employee > Employee paperless election. From there, you can filter by date range, enrollment type, and other relevant criteria to view the information you need.