Preview & edit your data before importing
We're excited to announce a new feature that will make your HR processes more efficient and reliable. Introducing the Employee Import Preview!
The Employee Import Preview feature allows you to preview all the data in your import file before importing it into the system. This means you can see all the employee information, including names, emails, phone numbers, job titles, and more, at a glance.
Not only that, but the system will validate each employee's data against pre-defined rules, highlighting any errors or inconsistencies found in the import file. These errors may include missing or invalid information, such as incorrect email addresses, phone numbers, or job titles. This way, you can quickly identify and fix any issues, ensuring that your data is accurate and up-to-date.
What's more, you can make changes directly in the Employee Import Preview screen, saving you time and effort. Once you've fixed all the errors, you can proceed with importing your employee data with confidence.
With the Employee Import Preview feature, you can easily manage large amounts of employee data, reduce errors, and maintain the integrity of your HR database. We believe this feature will be an invaluable tool for your HR team, and we're excited to bring it to you.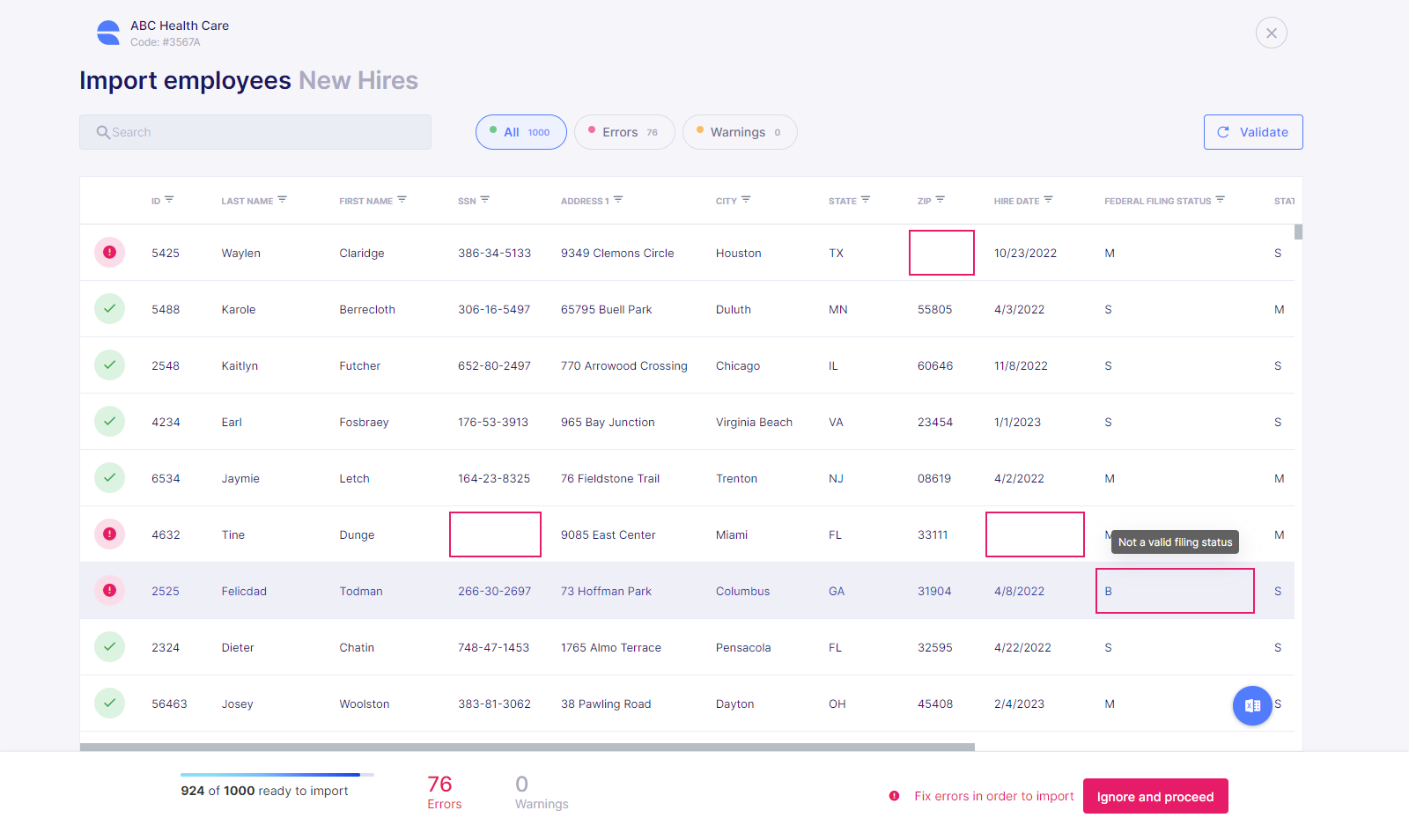 Employees can now Select and Transfer Department/Location when Clocking In from ESS
We are pleased to announce a significant enhancement to our Employee Self Service (ESS) portal. Employees can now select their department or location when clocking in, improving the accuracy of their time and attendance records. This feature will provide greater visibility to managers and HR personnel regarding employee activity and allow for better tracking of labor costs.
With this new feature, employees can easily select their department or location when clocking in from ESS, streamlining the time and attendance process. The enhanced accuracy of timesheets will also improve the payroll process, reducing errors and saving valuable time.
We are confident that this enhancement will provide a more efficient and effective experience for both employees and managers alike.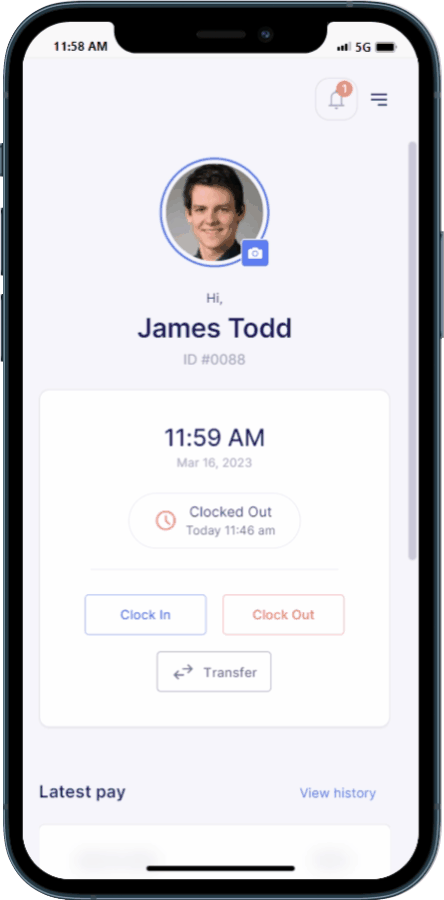 Get Alerts for Employees working more or less than scheduled
We're excited to introduce a powerful new feature that will help you stay on top of your employees' attendance more effectively. Our new Alert system allows you to get real-time notifications whenever an employee works more or less than their scheduled hours.
You can customize the Alert settings to fit your specific needs and receive daily or weekly notifications via email. This will enable you to take corrective action immediately and prevent any potential attendance problems from becoming larger issues.
Our Alert system is easy to set up and fully integrated with our Attendance module, making it a seamless addition to your existing HR workflow. Plus, it's highly customizable, so you can tailor the Alert settings to meet your unique needs and ensure that you receive only the notifications that matter most to you.
This alert can be found under Company > Rules & Alerts > Alert me > Schedule Discrepancies.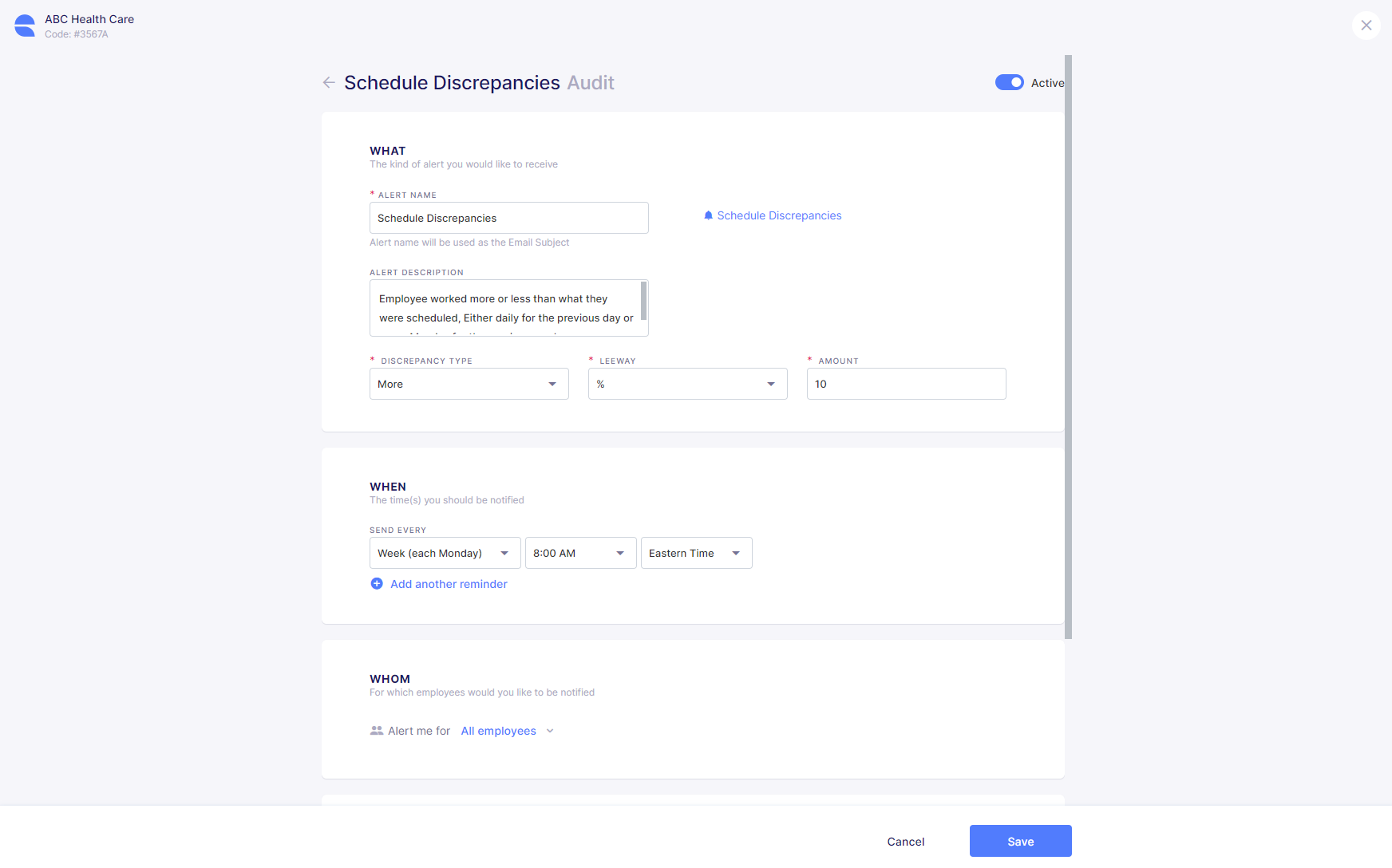 Customize user access with include/exclude specific employees
On top of the customization of giving users access to Direct Reports or using the logic for Specific Employees, you can now further customize that access to include or exclude specific employees. You can search by name or ID.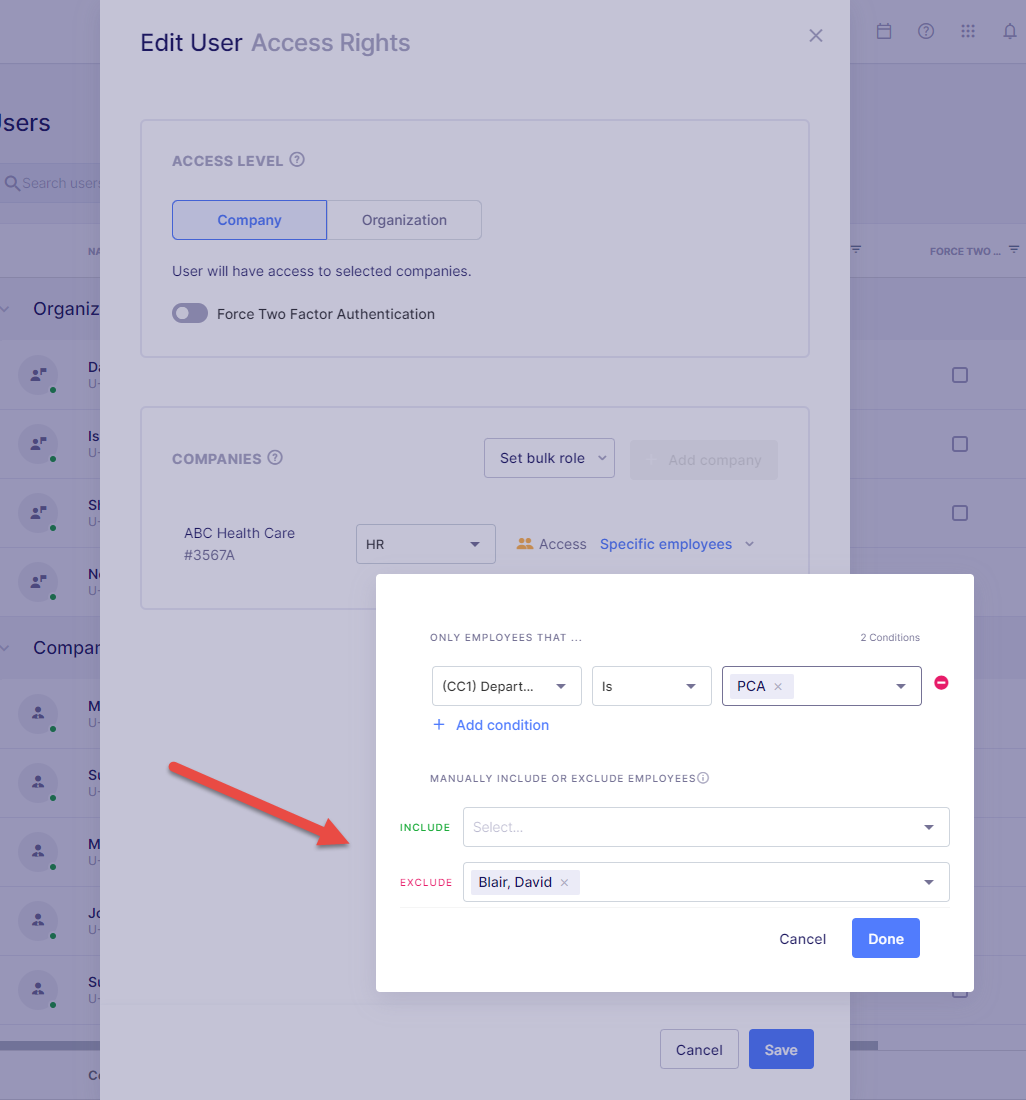 OT Calculations now supports employee filters
When setting up overtime, you now have the option to apply an overtime rule only to a specific filter group.
Company GoTo Search Box now allows searching for sub-items
The GoTo search box has been updated to allow users to search for sub-items such as defaults, leave reasons, and more. This feature enhancement will enable users to easily find specific information they are looking for within the company's system.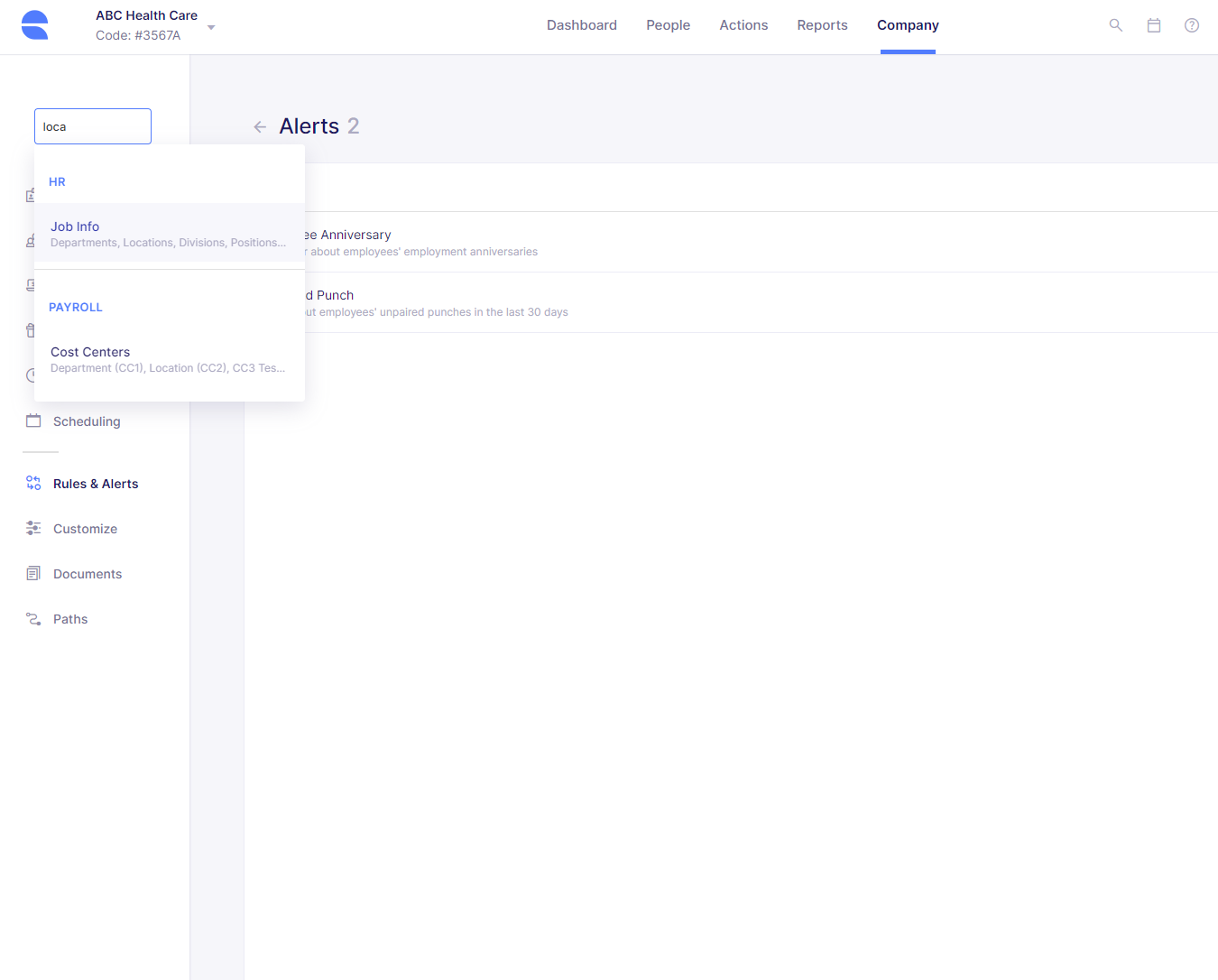 Benefit Module Plan Codes Displayed in Pay History and Labor Distribution Live Report Comment Field
Benefit Module Plan Codes will now be visible in the Pay History and Labor Distribution Live Report Comment Field. This feature will allow users to easily track and reconcile employee benefits with their corresponding plan codes, providing more comprehensive insights into the company's compensation and benefits system.
Overtime and Spread of Hours post date
Previously, the calculation of Overtime and Spread of Hours was dependent on the date an employee clocked in. However, with the latest update, these calculations are now based on the attendance post date. This means that the system will consider the date when the hours were actually posted, rather than the date when the employee clocked in. This change provides a more accurate and reliable calculation of overtime and spread of hours, as it takes into account any adjustments or corrections that may have been made to the hours worked.
This is only applicable for those who use the Empeon Time & Attendance module
Daily Timecard Report can now be Filtered by Agency Employees
The Daily Timecard Report can now be filtered based on Agency Employees. With this latest update, users can easily generate reports specific to Agency Employees, streamlining the process of tracking and managing their time and attendance. This feature enhancement will enable users to gain deeper insights into the activities of agency employees and take more informed decisions based on their performance.
Log changes speed improvements
We have made significant improvements to the log changes report speed, resulting in a faster and more efficient user experience.
Scheduled vs actual report grouping
You can now group the Attendance "Schedule vs Actual" report based on individual employees, providing a more detailed and comprehensive view of their performance. This feature enables you to analyze and compare the scheduled versus actual work hours for each employee, making it easier to identify areas of improvement and optimize work schedules.